PSP Employment Outcomes 2015
The King County Developmental Disabilities Division and the Washington State DSHS Developmental Disabilities Administration compile performance statistics on individual employment agencies in our region and throughout the state. The following charts and graphs utilize that data to compare PSP's employment outcomes in 2015 against other supported employment agencies in King County and throughout the state.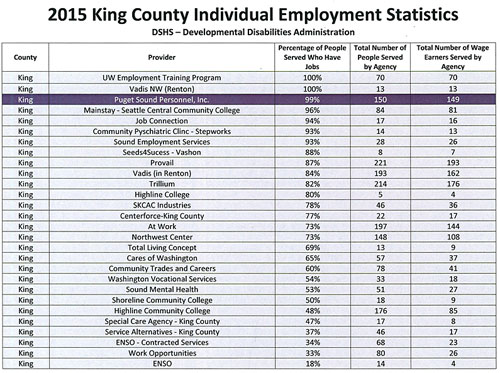 View Larger
This chart lists King County service providers according to the percentage of their participants who have jobs in the community.
This information provides a measurement of an agency's employment program outcomes. To evaluate a vendor's success in job placement efficiency and training effectiveness, be sure to compare the size of the population they serve to the number of people earning wages. Of the 150 people PSP served in 2015, 99% were employed and earning wages.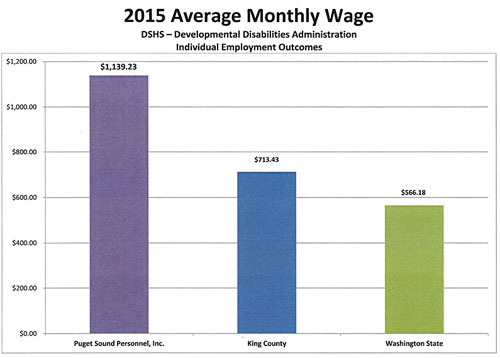 View Larger
People with developmental disabilities using PSP as their supported employment vendor average close to $1,200 per month in gross wages. These figures reflect our mission of developing career-oriented work opportunities and inclusion in the community.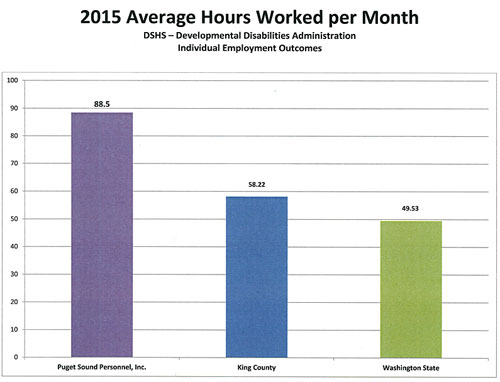 View Larger
This chart shows the average number of hours PSP participants work in paid jobs per month compared to the average hours worked by people using other vendors in King County and throughout the state of Washington. PSP's outcomes are considerably higher. We believe this reflects the caliber of our job training and support services that keep those we serve gainfully employed. Equally important to our success in this area is the long term partnerships we build with employers to develop new job opportunities for people with disabilities.
The goal of King County's Developmental Disabilities Division is to have supported employees work an average of 20 hours per week in paid employment. Given PSP's outcomes, we exceed that with our participants working an average of 20.3 hours a week in paid jobs compared to the 13.4 average work hours of people using other vendors in King County. Statewide, supported employees average 11.4 work hours per week in paid employment.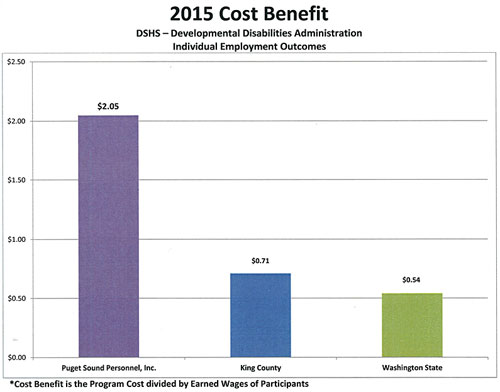 View Larger
Using taxpayers' funds wisely is a benchmark of a successful human services program. A cost benefit analysis of program costs divided by earned wages shows that PSP has been a good steward of these dollars with a $2.05 return on investment for every $1 spent in program costs. In King County, the average return on each dollar spent on program costs is $0.71. The return statewide is less with a cost benefit average of $0.54 for every $1 expended on supported employment costs..
Back to Top
The Choice Is Yours
You have a choice in determining your employment services provider. We hope that you will consider PSP. Review this website. Check out what the people we serve say about PSP. Call us to discuss your employment goals.